Summer Sipper 4-pack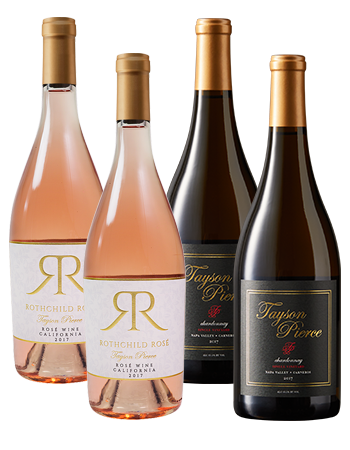 Just the wines you need for a day sipping wine poolside.
The Summer Sippers 4-pack includes:
2017 Tayson Pierce 'Rothchild Rosé Tasting Notes
The 2017 Rosé literally shimmers in its barely-there hue with an irrepressible perfume of flower petals, strawberries, and lemons, complemented by bright citrus, white peaches and a mouthwatering finish. The definition of "summer water." Pair with watermelon & feta salad.
2016 Tayson Pierce Chardonnay
Summer aromas of peach, pear, honey toast, brioche, butter, and honeysuckle spring from the glass. This beautifully aged Chardonnay reveals a complex palate and a smooth finish, showcasing the quality of the vintage and vineyard. Pair with a classic BLT sandwich, add avocado.